GUITAR LEGEND JIMMY RYAN RELEASES CONTEMPORARY INSTRUMENTAL / NEW AGE ALBUM "THE HEALING GUITAR"
Jimmy Ryan is renowned among those that have followed his career—equally as a guitar technician and a composer, as well as a recording artist and co-founder of the acclaimed jazz-rock fusion band, The Flyin' Ryan Brothers. On his 2021 CD Astral Café, Jimmy scaled the heights of the guitar summit, providing us with his unforgettable guitar melodies, powerful arrangements, and his studio wizardry. To compliment his electrifying instro-rock sound and perhaps reflect on his recent health challenges, Jimmy Ryan has released another, all-new heaven-sent album in the middle of 2022. The Healing Guitar, Jimmy's new, 5-track, 51-minute album was issued on CD in the Summer of 2022 on the Chicago-based Salvatori Productions.
For the release of The Healing Guitar, producer Tom Salvatori compiled five recently-recorded instrumental tracks performed by Jimmy and has presented them in two distinctive sonic settings: First, the album showcases four tracks featuring Jimmy Ryan (Electric Guitar, Bass) and Dan van Schindel (Drums, Percussion) in a normal studio setting. Second, the fifth track called "The Healing Guitar In Nature Suite," clocks in at 28:33 and becomes the centerpiece of the album with its five pieces that merge into each other. It is made up of the same four studio tracks but also features the recently discovered fifth track entitled "Continuum." Tom has creatively woven all five of these tracks into an ambient nature journey with wonderful background sound effects…starting with morning songbirds in a field, moving on to a visit to the ocean, with sounds of surf, seagulls, and children playing on the beach and then ending in an evening field teeming with crickets, birds and even the hoot of a late night barn owl!
Merging the five tracks, including the ultra-rare "Continuum," featured at the end of the suite, into one nearly 29-minute piece of music is a feat of engineering brilliance. The first four tracks, preceding the "Nature Suite," with Jimmy and Dan, present the two musicians in a very reflective yet supremely relaxed setting. The concept of The Healing Guitar is quite commendable, both as an immersive instrumental guitar experience as well as a salute to the healing powers of the guitar, especially when put into the hands of musicians of this high caliber. In the face of his recent health struggles, Jimmy Ryan truly rises to the occasion on The Healing Guitar.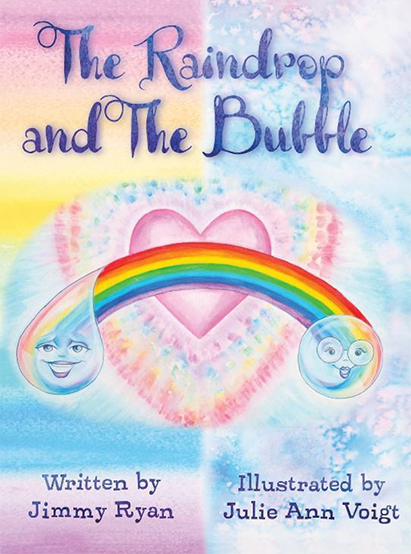 FOR IMMEDIATE RELEASE
The Raindrop and the Bubble
About the Book
A raindrop and a bubble decide to switch places, thinking they would enjoy themselves more by being able to do all the things the other could do. At first, it's exciting and new, but after a while, it wasn't the same. Through their journey, they both learn a valuable lesson in self discovery: "Be the best you that you can best be!" With its positive message, it's Aesop meets Dr. Seuss: A cross between a classic fable and an illustrated nursery rhyme with delightful characters that jump off the page thanks to the colorful artwork.
About the Author
Jimmy Ryan is a Grammy-nominated guitarist, writer, and producer. His soundtrack work garnered him a Telly Award. He is the proud father of two incredible daughters and grandfather to four wonderful grandchildren. This is Jimmy's first foray into children's books, being inspired by visits from
his grandchildren. He is so grateful that his daughter, Julie, was able to illustrate The Raindrop and the Bubble so beautifully. Jimmy lives in Des Plaines, Illinois, with the love of his life, his wife, Katie.
About the Illustrator
Julie Ann Voigt teaches children how to foster their creativity as an elementary school art teacher in Park Ridge, Illinois. She was very excited for the opportunity to illustrate this book for her father, Jimmy Ryan. Julie has her BA in education and art from Concordia University Chicago, and her MA in education from St. Xavier University. Julie lives in Mount Prospect, Illinois, with her husband, Collin, and two children, Declan and Aubrey. This is Julie's first time illustrating a children's book, and she is eager to start illustrations for a new project soon!
Their beloved late mother, Virginia, was an amazing artist and pianist and their late father, Edward, was an accomplished vocalist. That sparked an interest in music at an early age, and Jimmy and Johnny were 14 and 12, respectively, when they got their first guitars. With no formal training on the instrument, they were both soon playing by ear, imitating songs they heard on the radio. By early 1971, Jimmy and Johnny were in their first bands and already trying to outdo each other. "Leave it to sibling rivalry," Jimmy remembers. At the same time, they began to exchange licks and jam together, and quickly realized that they could arrange and play harmony leads together very naturally. "This was very exciting to both of us, because we were trying to be different, even back then," says Johnny.
By 1973, the FM airwaves began to feature more progressive music, and that's when it happened. "That's when we first heard Wishbone Ash. It was like being struck by lightning. After hearing their stylistic approach and melodic interplay, we were both completely hooked, and felt that we had truly found our musical calling," reflects Jimmy. Over the following months, Jimmy and Johnny began to really hone their styles and formed a band with some local musicians called Westfall. This was the band where they really began to develop their double lead style, modeled after Wishbone Ash. They played the local club scene relentlessly, and began to develop a "small, devoted and disturbed following" as Jimmy likes to say. During this period, they won every "Battle of the Bands" which they entered, gaining a solid regional reputation as a strong, tight rock outfit that featured the melodic interplay of their harmony lead guitars.
Gradually, as their reputation grew, things really began to take off. One of the highlights of the early days was their first studio session, where they recorded their first 2 original songs, "Everything I Could Ask For" and "Sunshine Daydream." "We got some airplay on some local radio stations, which reinforced to us that we had the right stuff," recalls Jimmy. "Hearing our own songs on the radio was the greatest feeling that we ever had, up to that point," notes Johnny.
The Ryan Brothers continued to develop their dual lead guitar style in several other bands thru the '70s, most notably Axis, Nutcracker and Freeze. They opened up for many top national touring acts, including Kiss, Styx, Survivor, Head East, Mitch Ryder and The Beach Boys.
During the early '80s, the music scene was changing due to "Disco Fever" and so were Jimmy and Johnny. Burnt out and frustrated, they split up and began to work separately, pursuing session work with a number of local recording studios, as well as several other group and solo projects. John worked on designing and building "The Garage", a recording studio in his home, as well as writing, producing and recording many of his original songs.
As time went on, both Jimmy and Johnny realized that what they had together was truly special. They both realized that whatever they did separately on their own just could not capture the magic of the "glory days" and the natural, melodic interplay between their guitars. It was during this period that The Flyin' Ryan Brothers were really born.
During the remainder of the '80s, Jimmy and Johnny continued to play out and write songs together, and, after winning the prestigious Budweiser "Battle of the Bands," played in front of over 30,000 people at Wrigley Field in Chicago to great response. They've hosted many open jam nights over the years at local clubs; not only to play out themselves, but to also provide a forum for up-and-coming bands and players to get exposure and promote themselves.
In 1996, Jimmy and Johnny released their debut all-original recording project together, "Sibling Revelry". The song "Struttin'" won the prestigious "Chicago's Finest Fingers" Competition in 1996, putting them on the short list of renowned guitar slingers in the Windy City, fueling their reputation both regionally and nationally.
In 1999, their next two full-length projects, "Colorama" and "The Chaos Sampler" were released. Both CDs received very positive reviews in the music press both locally and nationally, building on the solid foundation and buzz created from the strength of their debut release.
The times were changing once again, but this time in a most positive way: the Internet came into existence. The Flyin' Ryan Brothers started up their own website in January of 2000. Now Jimmy and Johnny could reach out to fans of harmony lead guitar all over the world. "The internet saved us," says Johnny. "Without it, we could have never hoped for more than a regional awareness of our music." Jimmy adds, "Through our networking, we've established contacts and expanded our fan base across the entire planet. One of the greatest things that ever happened to us was aligning ourselves with our mentors, the folks at Wishbone Ash." Leon Tsilis, who handled the Wishbone Ash website and merchandising endeavors, became a rabid fan and supporter of the band after being sent the CDs by Johnny. "These projects really express the raw talent and diversity of The Flyin' Ryan Brothers. These guys kick serious butt!" says Leon.
Jimmy and Johnny had the once-in-a-lifetime opportunity to jam with the great Andy Powell and Wishbone Ash at 2001s "Ashcon At Sea." Jimmy says, "Jamming with Andy and the band was one of the greatest highlights of our musical careers! Both Johnny and I can honestly say we would not be doing what we're doing today if it wasn't for Wishbone Ash, and for that we'll always be grateful." Johnny adds, "The band is still going strong after almost 50 years, and that's incredible."
In 2002, Jimmy and Johnny released "Legacy." The album garnered 4 GRAMMY nominations! "It's very rare for any independent release to 'make the cut' for the GRAMMY Awards, particularly in the composing and arranging fields," notes Jimmy. "Even though we didn't make it to the final ballot, we feel "Legacy" is still a winner."
In 2004, a nationally released CD compilation "Guitars At An Exhibition Volume II" featured not one, but TWO of their tracks ("Stevie Dan" [Legacy] and "Trick Bag" [from Jimmy's solo release Truth Squad / Superkiller"]).
2005 was a banner year: "Blue Marble" was released to critical praise, making several "Best Of" and "Top Ten" lists both regionally and nationally, and in keeping with the high standards established by their prior releases, earned 4 GRAMMY nominations once again! They were also profiled in the April 2006 edition of 20th Century Guitar magazine. Included on "Blue Marble" was their version of the Wishbone Ash classic "Blowin' Free 2005" which also appeared on the international Wishbone Ash tribute CD, "Wishbone Ish." Johnny says, "What a joy it was to honor our heroes with our version of one of their most famous tracks." Jimmy adds, "We really made it our own, throwing in a few twists and turns that you might not expect from a remake."
Carrying that momentum into 2006, the "Blue Marble" track "Baghdad" was one of the winners of Billboard's Independent Music World Series 2006 (over 15,000 entries were submitted from over 80 countries). That track appeared on a nationally released compilation CD, and The Flyin' Ryan Brothers were voted as one of "The Top 15 Acts From The Midwest" by Billboard magazine.
In 2007, The Flyin' Ryan Brothers won a TELLY award for a soundtrack they had done which was commissioned by David Weekley at the University of Arkansas. Since then, they have worked on other soundtrack projects for promotional and industrial video releases as well as several short films from independent film makers.
"Totality" was released in 2008, once again nabbing a total of 9 GRAMMY nominations. It was their most musically diverse project to date, topping both critic and listener polls not only nationally but internationally as well, landing again on several "Best Of" and "Top Ten" lists as well as being profiled once again in the August 2008 issue of 20th Century Guitar magazine.
In 2009, the "Blue Marble" track "Gaza" appeared on "Guitar Masters Volume 2", a nationally released compilation CD, which was compiled by BHP Music's Brian Tarquin. Featuring a "Who's Who" of world renowned guitar players (Carlos Santana, Jimmy Page, Yngwie Malmsteen, Steve Morse and B.B. King among others), The Flyin' Ryan Brothers held the unique distinction of being the ONLY independent artist appearing on this release.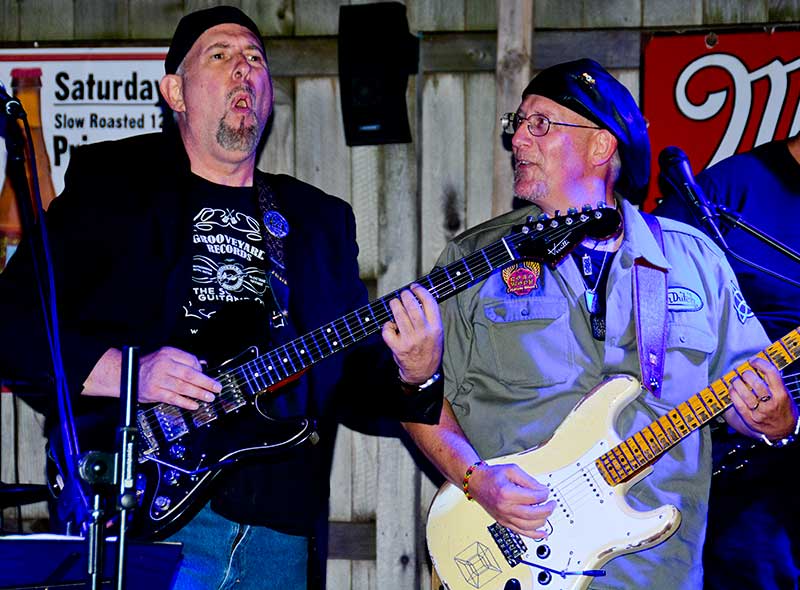 Fueled by the success of the Guitar Masters CD series, BHP Music slated a double CD release in 2010 (Guitar Masters Volumes 3 & 4), the theme being a dedication to the late, great Les Paul. Once again featuring some of the top guitarists on the planet (Jeff Beck, Steve Vai, Allan Holdsworth, Leslie West, Frank Gambale, Will Ray and Gary Hoey among others), Brian Tarquin contacted Jimmy and Johnny and commissioned them to write an extended double lead solo with tradeoffs for his composition, "Chopper Mania." That incendiary track appears on Volume 3.
In 2012, "Under The Influence" was released, garnering 7 GRAMMY nominations. Paying homage to their musical influences, the release is a veritable cornucopia of styles, grooves and genre-twisting diversity. Johnny says, "It's always been about the music, and this is without a doubt our most powerful and diverse project to date." Jimmy adds, "Every song is a universe unto itself. Just give it a listen and enjoy the ride!"
Jimmy and Johnny teamed up with Brian Tarquin once again in 2014 with Brian Tarquin & Heavy Friends "Guitars For Wounded Warriors", a release commemorating the sacrifices of our men and women in uniform. Joining the other "heavy friends" on this CD (Steve Morse, Billy Sheehan, Ron "Bumblefoot" Thal, Gary Hoey, Reb Beach and Chris Poland among others), Jimmy & Johnny contributed blazing solos on "Surgical Strike" and appeared in a feature article in Guitar Player magazine (January 2015) showcasing the release.
Also in 2015, Jimmy & Johnny's pedalboards were prominently featured in "STOMP ON THIS – The Guitar Pedal Effects Guidebook" by Brian Tarquin. The book features in-depth descriptions and photographs of several of Jimmy & Johnny's studio & live pedalboards along with detailed analysis and commentary from the brothers.
Since 2016, The Flyin' Ryan Brothers officially ceased writing, recording and performing together, with both Jimmy and Johnny moving on to pursue their own musical visions separately. They leave behind a substantial musical legacy of considerable breadth and depth, diversity and sophistication.
May the lost art of double lead harmony guitar never die! The Flyin' Ryan Brothers have done their part to insure that never happens.
Jimmy and Johnny have played guitar together for over 45 years and are considered one of the premier double harmony lead guitar teams in the world. They both started playing guitar in the late '60s, and music had always played a major role in their early family life.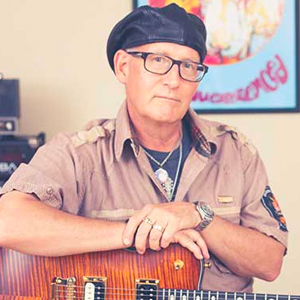 Jimmy has dedicated himself to the artistry of guitar. He has been a creating music for over 45 years and shows no sign of losing his passion, ambition or desire to continually reinvent himself. His ability to adapt his creative spirit to a diverse range of projects is a key ingredient to his success.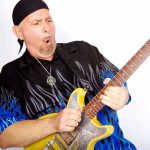 Johnny is currently involved in both live and studio projects. He works exclusively with a local studio with various artists who need just the right guitar part for their song.
You won't find Ryanetics Music on Facebook, Twitter, Instagram or any other social media platform. Feel free to email me. I'll get back to you!
Social media platforms are ripping apart our social fabric, eroding the core foundations of how people behave, both personally and interpersonally. The echo chambers created by the algorithms used in social media (as well as the proliferation of "fake news"[sic], conspiracy mongering and propaganda in their news feeds) exploit a vulnerability in human cognition by creating dopamine-driven social-validation feedback loops, and they are destroying how society works. This is not hyperbole.
Through these platforms, bad actors can now manipulate large groups of people to do whatever they want them to, sowing discord and keep us fighting each other. Authoritarian tribalism, distilled and amplified by these platforms, is now the new normal. Human conflict is spreading planet-wide, and the platforms that dominate global online discourse are fanning the flames.
Our behaviors are being programmed; this was not intended, but that's how it's turned out. Each of us must now decide how much of our intellectual independence we're willing to sacrifice to social media. Even though we can't control these platforms, we can control our decision whether or not to participate in their use. We encourage deliberate and mindful introspection regarding your own relationship to social media.
We have. We've chosen not to participate.

© 2020 Ryanetics Music, LTD – All Rights Reserved