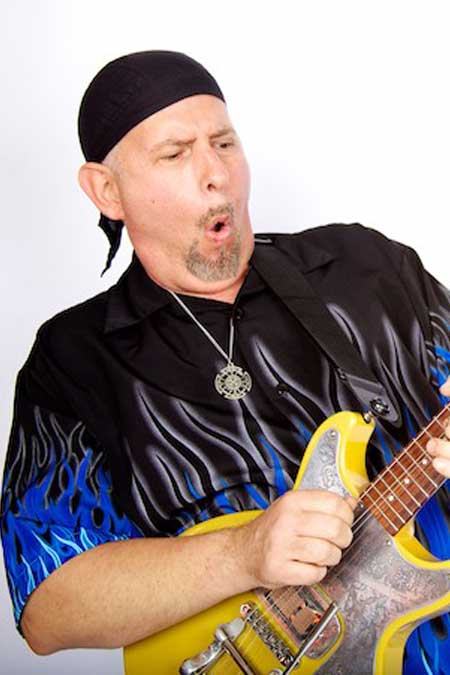 In 2015, Johnny formed a new band called "Vertical Jam", an exciting and powerful classic rock cover band. They perform "straight-up classic rock with a twist" for all occasions, playing timeless songs that have spanned the generations. Their creative use of medleys, segues and other live entertainment devices ties their music together in a unique and memorable way, appealing to music lovers of all ages and stylistic persuasions.
Along with bandmates Dan Van Schindel (drums), Jeff Bachemin (bass), Jimmi Perrino (keyboards) and Don Mills (vocals), Vertical Jam plays in and around the Chicago area, including the summer music festival circuit. Performing songs they love and grew up with, the band specializes in unique arrangements and "songs within songs" which emphasize their tight musicianship and unbridled passion for their music in their incendiary live shows.
In 2016, Johnny and the band teamed up with local radio personality and lyricist Stew Cohen to write a Chicago Cubs victory song called "Summer of Fulfillment in Cubbie Blue". The song got radio airplay and the band was offered the chance to play the song live on WGN TV just weeks before the World Series…and guess what? The Cubs won it all! Just coincidence?
Vertical Jam also wrote another original song, again with Stew Cohen, called "I Am Free" that honors our veterans and celebrates our freedom, also getting radio airplay. Several veteran's organizations have showed interest in the song, and The Wounded Warrior Project even posted it on their website.
Vertical Jam will keep performing and continue in their never-ending quest to keep the rock alive.
Johnny plays electric and acoustic guitars, mandolin and keyboards. He loves to experiment with alternate tunings and is especially fond of DADGAD. He has a wide variety of influences and is fluent in all musical genres. His favorite guitar players are Phil Keaggy, Jeff Beck and Ty Tabor.