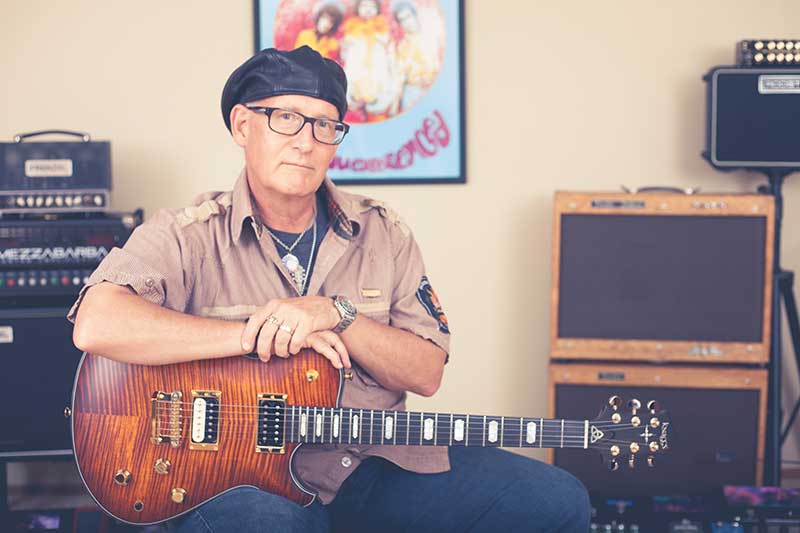 Jimmy has dedicated himself to the artistry of guitar. He has been a creating music for over 45 years and shows no sign of losing his passion, ambition or desire to continually reinvent himself. His ability to adapt his creative spirit to a diverse range of projects is a key ingredient in his success.
All humans have a unique fingerprint, and in the world of guitar Jimmy has a distinctive voice that is unique to him. When Jimmy hits a note, you know it's him…and that's what makes him one of a kind.
Jimmy's style is deeply rooted in the Blues, incorporating a heavy, "future retro" hard rock tonal palette and a sublimely refined, highly emotive approach. He blends a broad range of modern guitar techniques with classic phraseology and sophisticated melodic sensibilities reminiscent of the masters, all rolled into a unique stylistic fingerprint that is unmistakably all his own.
Jimmy recorded his first solo project, "Jimmy Ryan / Finally", in 1987 on a vinyl-only album release. It was remastered from the original tapes and re-released on CD in 1999.
In 2003, Jimmy released his second solo project, "Truth Squad / Superkiller", featuring The Flyin' Ryan Brothers' amazing rhythm section of Johnny Mrozek (drums) and William Kopecky (bass). Not only did the CD receive 4 GRAMMY nominations as well, but Jimmy appeared in his first full-length interview in the February 2004 issue of 20th Century Guitar magazine. In 2017, Jimmy released his third solo album, "Jimmy Ryan / 21st Century Riffology" on Grooveyard Records. From the liner notes:
"This release is an attempt within the genre of instrumental guitar music to consciously shift that outmoded paradigm to one that better reflects what the consumption of music means in the Anthropocene: short, tightly focused, fully realized and highly controlled bursts of guitar madness liberated from the structural constraints of the past. 21 songs in about 50 minutes."
In addition to his body of work with The Flyin' Ryan Brothers and his solo projects, Jimmy is also a prolific composer, arranger and in-demand session guitarist; Jimmy's work has been featured in many nationally syndicated television shows and include clients such as BRAVO, Food Network, HGTV and the NFL. He has also appeared on dozens of album releases by other artists, and his playing can be heard in numerous independent films as well. In partnership with drummer extraordinaire Dan Van Schindel, these recording sessions are produced in Dan's state-of-the-art home studio.
Jimmy continues to compose, arrange and record music for TV, film and his solo work. He also designs and builds custom guitars, cabinets and pedal boards, tweaks amplifier circuits and modifies effects pedals to his exacting personal specifications.
Jimmy has been a member of the Chicago Federation of Musicians Local 10-208 for over 40 years and is a Voting Member of the National Academy for the Recording Arts and Sciences (NARAS).
Jimmy proudly endorses and loudly uses:
Knaggs, Verrilli, Harden, Teye, Fano, and Fender guitars
Birdsong basses
Mezzabarba, Frenzel, DV Mark and Fender amplifiers
JJ Electronic Tubes
Austin Speaker Works and Celestion Speakers
Essential Sound Products power cables
Fractal Audio AxeFX effects processors
Asterope, Death Valley, Ear Candy and George L's cables
NYC and Diago pedalboards
Royer and Sennheiser microphones
AmpClamp and Gator Frameworks stands
Curt Mangan Strings
Cool picks
Souldier and Red Monkey Straps
JJ's Gorgomyte Fretboard Conditioning Cloth