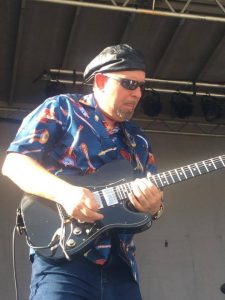 His last band, Vertical Jam, wrote a Chicago Cubs victory song for the 2016 season called "Summer Of Fulfillment In Cubbie Blue" which got heavy local airplay on Chicago area radio. And guess what? The Cubs went all the way and won the World Series! They also performed the song live on WGN TV. The band also wrote other original songs including the patriotic "I Am Free" which can be seen on YouTube.
Johnny's real love is playing live, especially with longtime friends and bandmates. Since 2009, John has been a member of The Neighborhood Band. The name may sound generic, but they are anything but. What makes this band unique is that at the beginning of every year they wipe the slate clean and pick 30-35 brand new songs. Everyone in the lineup picks the songs they'd like to perform, representing every conceivable style and genre, old and new. What makes this challenging and fun is that it forces them out of their musical comfort zone and opens up their ears to different styles on their instruments – whether they like it or not! At present, they have over 400 YouTube videos going back to 2008…including the 30 year reunion of the original lineup of The Flyin' Ryan Brothers from way back in the '70s.
Johnny plays electric and acoustic guitars, mandolin and keyboards. He loves to experiment with alternate tunings and is especially fond of DADGAD. He has a wide variety of influences and is fluent in all musical genres. His favorite guitar players are Phil Keaggy, Jeff Beck and Ty Tabor. Johnny currently lives in Streamwood, IL.